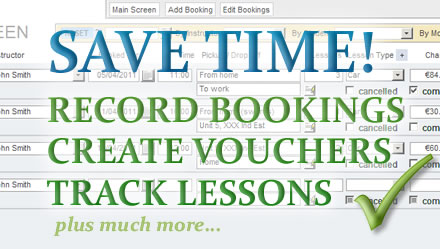 Driving School Software
Driving instructors: Reduce your administration and workload by hours each week. Get a simple software tool to help keep track of all your block bookings, including how many lessons a student has left in credit.

Lessons Diary for PC &
Student Records Database
» Manage the new Log Book requirement with ease

» No more tedious paperwork, schedules kept in database
» At a glance student status reports
» Create lesson plans & autoprice lessons
» Instant reports : Student lesson reports, financial reports, sales reports, etc.
» Easy to use: Consistent look and feel throughout
» Generate your own vouchers, send them by email
» Get up and running in minutes
» Install on PC or Netbook